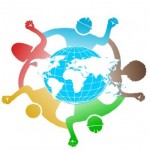 International trade union network of solidarity and struggle
Réseau syndical international de solidarité et de luttes
Rede Sindical Internacional de solidariedade e de lutas
Red sindical internacional de solidaridad y de luchas
Rete sindicale internazionale di solidarietà e di lotta
VIO.ME

(Salonicco):
Occupa, resisti, produci !
VIOME : www.viome.org 
Dopo essere stata abbandonata dai padroni, la fabbrica Vio.me ha funzionato per quasi tre anni sotto il controllo operaio in autogestione attraverso l'assemblea dei lavoratori. Oggi rappresenta una lotta emblematica, che dimostra che la vera risposta alla crisi che lascia milioni di persone nella povertà e nella disoccupazione è l'emancipazione dei lavoratori  e una riconversione produttiva basata sull'iniziativa e la creatività della società. I lavoratori di Vio.me, attraverso la fabbricazione di prodotti di igiene per la casa nei locali della fabbrica occupata, hanno prospettato un nuovo modo di produzione che risponde ai bisogni della società, opposto alle relazioni di sfruttamento del lavoro e il bisogno infinito di accumulazione del capitale.
Purtroppo, contrariamente alle promesse dei governi che si sono succeduti di regolarizzare questo interessante esempio  di autogestione operaia, i lavoratori di Vio.me si trovano ad affrontare delle procedure giuridiche che potrebbero portare alla liquidazione dei locali della fabbrica e minacciare il proseguimento della produzione.
Noi, collettivi e individui singoli firmatari di questo documento, sosteniamo la lotta dei lavoratori di Vio.me per il lavoro, la dignità e la libertà, contro un sistema giudiziario al cieco servizio dei potenti. Li sosteniamo nella loro decisione di difendere con tutti i mezzi possibili la continuità della produzione.
Informiamo le autorità greche e i potenti gruppi d'interesse economico, che si oppongono alla lotta di Vio.me, che un attacco contro la fabbrica autogestita Vio.me rappresenta un attacco contro tutti noi. Domandiamo al governo greco di fermare la messa all'asta dei locali della fabbrica e di presentare una soluzione definitiva espropriando i terreni e affidandoli ai lavoratori, con la condizione che la fabbrica continui a funzionare sotto controllo operaio secondo forme orizzontali di decisione.
Indichiamo chiaramente che non permetteremo a nessuno di sottrarre la fabbrica ai suoi legittimi proprietari, che sono i lavoratori e la comunità in generale. Sosterremo questa lotta in tutte le sue tappe future. I lavoratori di Vio.me vinceranno perchè si battono per una giusta causa di dignità e autodeterminazione.
 ———————————————————————–
Après avoir été abandonnée par les employeurs, l'usine de VIOME a fonctionné depuis quasiment trois ans sous contrôle ouvrier en autogestion par l'assemblée des travailleurs. Elle constitue aujourd'hui une lutte emblématique, qui démontre que la vraie réponse à la crise qui laisse des millions d'individus dans la pauvreté et le chômage est l'émancipation des travailleurs et un redressement productif basé sur l'initiative et la créativité de la société. Les travailleurs de VIOME, à travers la fabrication de produits ménagers dans les locaux de l'usine occupée, ont proposé un nouveau mode de production qui répond aux besoins de la société, contre les relations d'exploitation du travail et le besoin infini d'accumulation du capital.
Malheureusement, en dépit des promesses des gouvernements successifs de régulariser cet exemple intéressant d'autogestion ouvrière, les travailleurs de VIOME font face à des procédures juridiques qui pourraient mener à la liquidation des locaux de l'usine et menacer la poursuite de la production.
Nous, collectifs et individus soussignés, soutenons la lutte des travailleurs de VIOME pour l'emploi, la dignité et la liberté, contre un système judiciaire qui sert aveuglément les intérêts des puissants. Nous les soutenons dans leur décision de défendre leurs efforts de production par tous les moyens possibles.
Nous prévenons les autorités grecques et les puissants intérêts d'affaires qui s'opposent à la lutte de VIOME qu'une attaque contre VIOME constitue une attaque contre nous tous. Nous demandons au gouvernement grec d'arrêter la mise aux enchères des locaux de VIOME et de présenter une solution définitive en expropriant les terrains et en les confiant aux travailleurs, à la condition que l'usine continue de fonctionner sous contrôle ouvrier et en horizontalité dans les prises de décisions.
Nous indiquons clairement que nous ne permettrons à personne de reprendre l'usine à ses propriétaires légitimes que sont les travailleurs et la communauté en général. Nous soutiendrons cette lutte dans toutes ses étapes futures. Les travailleurs de VIOME l'emporteront car ils se battent pour une juste cause de dignité et d'autodétermination !
————————————————————————
After being abandoned by the employers, the Factory of VIOME has been operating for nearly 3 years under workers' control, through self-management by the workers' assembly. Today, it constitutes an internationally emblematic struggle, which demonstrates that the real response to the crisis that leaves millions in poverty and unemployment is  workers' emancipation and a productive reconstruction based on society´s initiative and creativity. The workers of VIOME, through the production of natural cleaning products in the premises of the occupied Factory, have proposed a new mode of production that responds to the needs of society, against exploitative labour relations and the drive for endless accumulation of capital.
Unfortunately, despite the promises of a series of governments to legitimise this important example of workers' self-management, the workers of VIOME are now facing legal procedures that could lead to the liquidation of the factory premises and could threaten the continuation of the factory's production.
We, the undersigned collectives and individuals, support the struggle of the workers of VIOME for employment, dignity and freedom against the judicial system that blindly serves the interests of the powerful.
We stand by their side in their decision to defend their productive endeavour by any means possible.
We warn the Greek authorities and the powerful business interests that oppose the VIOME struggle that an attack on VIOME is an attack on us all. We demand that the Greek government stops the auction of the VIOME premises and that it offers a definitive solution by expropriating the land and granting it to the workers, on the condition that the factory keep operating under workers' control and horizontal decision making.
We state clearly that we will not allow anyone to grab the factory from its legitimate owners, that is, the workers and the wider community. We will support this struggle in every step along the way. The workers of VIOME will prevail, since they fight for the just cause of dignity and self-determination!
————————————————————————
Después de ser abandonada por sus dueños, la fábrica de VIOME ha estado funcionando durante casi 3 años bajo control obrero, a través de la autogestión por la asamblea de trabajadores. Hoy en día, constituye una lucha emblemática a nivel internacional, demostrando que la respuesta real a la crisis que deja a millones en la pobreza y el desempleo es la emancipación de los trabajadores y una reconstrucción productiva basada en la iniciativa y la creatividad de la sociedad. Los trabajadores de VIOME, a través de la producción de productos de limpieza naturales en las instalaciones de la fábrica ocupada, han propuesto un nuevo modo de producción que responda a las necesidades de la sociedad, contra las relaciones de explotación laboral y la ansia de acumulación infinita de capital.
Desafortunadamente, a pesar de las promesas de una serie de gobiernos de legitimar este importante ejemplo de autogestión obrera, los trabajadores de VIOME se enfrentan ahora a procedimientos legales que podrían desembocar en la liquidación de las instalaciones de la fábrica y podrían amenazar la continuidad productiva.
Nosotros, los colectivos y personas abajo firmantes, apoyamos la lucha de los trabajadores de VIOME por el empleo, la dignidad y la libertad contra un sistema judicial que sirve ciegamente los intereses de los poderosos.
Estamos a su lado en su decisión de defender su emprendimiento productivo por cualquier medio posible.
Advertimos a las autoridades griegas y a los poderosos intereses empresariales que se oponen a la lucha de VIOME que un ataque a VIOME es un ataque a todos nosotros. Exigimos que el gobierno griego detenga la subasta de los terrenos de VIOME y que ofrezca una solución definitiva a través de la expropiación de las instalaciones y la concesión a los trabajadores, a condición de que la fábrica siga operando bajo control obrero y con toma de decisiones horizontal.
Advertimos que no vamos a permitir que nadie despoje la fábrica de sus legítimos propietarios, es decir, los trabajadores y la comunidad más amplia.  Vamos a apoyar esta lucha en cada paso de su camino. ¡Los trabajadores de VIOME prevalecerán, ya que luchan por la justa causa de la dignidad y la autodeterminación!
————————————————————————
Wir, die Arbeiter von Vio.Me, haben unsere Fabrik besetzt, nachdem sie 2011 von den Ex-Arbeitgebern verlassen wurde, und produzieren seit über eineinhalb Jahren selbstverwaltet und unter Arbeiterkontrolle.
Waren es ursprünglich Baumaterialien, so produ-zieren wir jetzt ›solidarische‹ Produkte, wie z.B. natürliche Reinigungsmittel.
Die Produktion hält nicht nur die Fabrik am Laufen, sondern sie ermöglicht es uns und unseren Familien, physisch und psychisch durchzuhalten. Sie hilft uns, lebendig zu bleiben, unsere Würde zu behalten und negative Auswirkungen der Langzeitarbeitslosigkeit wie Angst, das Gefühl der Nutzlosigkeit und Depression zu vermeiden.
Wir vertreiben unsere Produkte kostengünstig an Einzelpersonen und Kollektive, die sich unserem Selbstverwaltungsprojekt verbunden fühlen. So können wir überleben UND den Kampf um die Wiedereröffnung der Fabrik auf stabilen rechtlichen Grundlagen weiterführen.
Zu diesem Zweck haben wir eine Sozialkooperative (S.E. Vio.Me) gegründet. Jedes Mitglied ist zugleich Mitarbeiter und jeder Mitarbeiter ist auch Mitglied der Kooperative. Unsere Entscheidungen fällen wir horizontal in den täg-lichen Arbeiterversammlungen. Das einzige individuelle Recht der Mitglieder der Kooperative ist die Teilnahme an und die Abstimmung in den Versammlungen.
Unter unseren Produkten sind natürliche Seifen aus Olivenöl, angereichert mit Kokos- und Mandelöl, die eine besondere Pflege für den ganzen Körper gewährleisten. Da die Seifen hinsichtlich Größe und Volumen kompakt sind, können wir sie in Kartons (zu je 104 Stück, das Stück zu 2,50 Euro incl. Versand) durch internationale Speditionen verschicken.
Bestellungen können einfach an die unten genannte Emailadresse geschickt werden (am besten auf Englisch), die Zustellmodalitäten in den jeweiligen Städten werden dann per Email geklärt. Für die Bestellungen gibt es ordnungsgemäße Rechnungen, so dass die Produkte ganz legal an unsere FreundInnen und UnterstützerInnen, an Einzelpersonen und Soziale Kollektive, die sich unserem Selbstverwaltungsprojekt solidarisch verbunden fühlen, verkauft werden.
In Freundschaft, die Arbeiter und Vertriebs-Angestellten von Vio.me, im Bestreben, eine größere Gemeinschaft zu mobilisieren und die Vision zu verwirklichen, dass »die Produktion von denjenigen betrieben wird, die den eigentlichen gesellschaftlichen Reichtum schaffen!«
Las organizaciones de la Red sindical internacional de solidaridad y de luchas
Organizaciones sindicales nacionales interprofesionales


Central Sindical e Popular Conlutas (CSP-Conlutas) – Brésil.



Confederación General del Trabajo (CGT) – Etat espagnol.



Union syndicale Solidaires (Solidaires) – France.



Confédération Générale du Travail du Burkina (CGT-B) – Burkina.



Confederation of Indonesia People's Movement (KPRI) – Indonésie.



Confederación Intersindical (Intersindical) – Etat espagnol.



Syndicat National Autonome des Personnels de l'Administration Publique (SNAPAP) – Algérie.



Batay Ouvriye – Haïti.



Unione Sindacale Italiana (USI) – Italie.



Confédération Nationale des Travailleurs – Solidarité Ouvrière (CNT SO) – France.



Sindicato de Comisiones de Base (CO.BAS) – Etat espagnol.



Organisation Générale Indépendante des Travailleurs et Travailleuses d'Haïti (OGTHI) – Haïti.



Sindacato Intercategoriale Cobas (SI COBAS) – Italie.



Confédération Nationale du Travail (CNT-f) – France.



Intersindical Alternativa de Catalunya (IAC) – Catalogne.



Union Générale des Travailleurs Sahraouis (UGTSARIO) – Sahara occidental.



Ezker Sindikalaren Konbergentzia (ESK) – Pays basque.



Confédération Nationale de Travailleurs du Sénégal Forces du Changement (CNTS/FC) – Sénégal.



Independent Trade Unions for Egyptian Federation (EFITU) – Egypte.



Sindicato Autorganizzato Lavorator COBAS (SIAL-COBAS) – Italie.



General Federation of Independent Unions (GFIU) – Palestine.



Confederación de la Clase Trabajadora (CCT) – Paraguay.



Red Solidaria de Trabajadores – Perou.



Union Syndicale Progressiste des Travailleurs du Niger (USPT) – Niger.
Organizaciones sindicales nacionales profesionales


National Union of Rail, Maritime and Transport Workers (RMT/TUC) – Grande-Bretagne.



Centrale Nationale des Employés – Confédération Syndicale Chrétienne (CNE/CSC) – Belgique.



Sindicato Nacional de Trabajadores del Sistema Agroalimentario (SINALTRAINAL/CUT) – Colombie.



Fédération Générale des Postes, Telecom et Centres d'appel – Union Générale Tunisienne du Travail (FGPTT/UGTT) – Tunisie.



Trade Union in Ethnodata – Trade Union of Empoyees in the Outsourcing Companies in the financial sector – Grèce.



Syndicat national des travailleurs des services de la santé humaine

 

(SYNTRASEH) – Bénin



Sindicato dos Trabalhadores da Fiocruz (ASFOC-SN) – Brésil.



Organizzazione Sindicati Autonomi e di Base Ferrovie (ORSA Ferrovie) – Italie.



Union Nationale des Normaliens d'Haïti (UNNOH) – Haïti.



Confederazione Unitaria di Base Scuola Università Ricerca (CUB SUR) – Italie.



Confederazione Unitaria di Base Immigrazione (CUB Immigrazione) – Italie.



Coordinamento Autorganizzato Trasporti (CAT) – Italie.



Confederazione Unitaria di Base Credito e Assicurazioni (CUB SALLCA) – Italie.



Syndicat des travailleurs du rail – Union Nationale des Travailleurs du Mali (SYTRAIL/UNTM) – Mali.



Gıda Sanayii İşçileri Sendikası –

Devrimci İşçi Sendikaları Konfederasyonu

(GIDA-IŞ/DISK) – Turquie.



Syndicat National des Travailleurs du Petit Train Bleu/SA (SNTPTB) – Sénégal.



Asociación Nacional de Funcionarios Administrativos de la Caja de Seguro Social (ANFACSS) – Panama.



Conseil des Lycées d'Algérie (CLA) – Algérie.



Confederazione Unitaria di Base Trasporti (CUB Trasporti) – Italie.



Syndicat de l'Enseignement Supérieur Solidaire (SESS) – Algérie.



Palestinian Postal Service Workers Union (PPSWU) – Palestine.



Union Syndicale Etudiante (USE) – Belgique.



Sindicato dos Trabalhadores de Call Center (STCC) – Portugal.



Sindicato Unitario de Trabajadores Petroleros (Sinutapetrolgas) – Venezuela.



Alianza de Trabajadores de la Salud y Empleados Publicos – Mexique.



Canadian Union of Postal Workers / Syndicat des travailleurs et travailleuses des postes (CUPW-STTP) – Canada.
Organizaciones sindicales locales


Trades Union Congress, Liverpool (TUC Liverpool) – Angleterre.



Sindacato Territoriale Autorganizzato, Brescia (ORMA Brescia) – Italie.



Fédération syndicale SUD Service public, canton de Vaud (SUD Vaud) – Suisse



Sindicato Unitario de Catalunya (SU Metro) – Catalogne.



Türkiye DERİ-İŞ Sendikasi, Tuzla et Izmir (DERİ-İŞ Tuzla et Izmir) – Turquie.



L'autre syndicat, canton de Vaud (L'autre syndicat) – Suisse



Centrale Générale des Services Publics FGTB, Ville de Bruxelles (CGSP/FGTB Bruxelles) – Belgique



Arbeitskreis Internationalismus IG Metall, Berlin (IG Metall Berlin) – Allemagne



Sindicato Unificado de Trabajadores de la Educación de Buenos Aires, Bahia Blanca -(SUTEBA/CTA de los trabajadores Bahia Blanca) – Argentine


Sindicato del Petróleo y Gas Privado del Chubut

/CGT – Argentine.



UCU University and College Union, University of Liverpool

 

(UCU Liverpool) – Angleterre.
Organizaciones sindicales internacionales


Industrial Workers of the World – International Solidarity Commission (IWW)
Corrientes, tendencias o redes sindicales


Transnationals Information Exchange Germany (TIE Germany) – Allemagne.
 Emancipation tendance intersyndicale (Emancipation) – France.
 Globalization Monitor (Gmo) – Hong Kong.
 Courant Syndicaliste Révolutionnaire (CSR) – France.
 No Austerity – Coordinamento delle lotte – Italie.
 Solidarité Socialiste avec les Travailleurs en Iran (SSTI) – France.
 Basis Initiative Solidarität (BASO) – Allemagne.
 LabourNet Germany – Allemagne.
 Resistenza Operaia – operai Fiat-Irisbus – Italie.
International trade union network of solidarity and struggle
Réseau syndical international de solidarité et de luttes
Rede Sindical Internacional de solidariedade e de lutas
Red sindical internacional de solidaridad y de luchas
Rete sindicale internazionale di solidarietà e di lotta